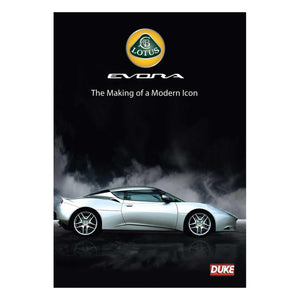 This official Lotus DVD tells the remarkable story of the development of the new Lotus Evora sportscar from a clean sheet idea to the final product.
Lotus Evora - The Making of a Modern Icon lets you join the Lotus team as they test in the freezing Arctic, at the world famous Nurburgring, and as they face the challenges of manufacturing this award-winning sportscar – and it was all done in an unprecedented 27 months!
This is not just the story of the Lotus Evora; it is the story of the people behind it, set against the backdrop of huge changes in the motor industry and within Lotus itself.
With exclusive behind-the-scenes filming, Lotus Evora - The Making of a Modern Icon is a pioneering documentary showing for the first time the complete development of a car as it happened.
It is a must-see, not just for sportscar fans, but for anyone who wants to see how this latest model from the legendary Lotus was developed.
"This Lotus documentary focuses on the Evora and the people behind it. With development footage from sketches to prototype testing, through to its debut at the 2008 British Motor Show, the 85-minute DVD is a great look behind the scenes. The interviewees do most of the talking, while driving shots and raw test track footage of bonus features. One for Lotus enthusiasts and Evora owners. Four stars" Auto Express